Welcome to the Jewish Genealogy Society
of Long Island (JGSLI)!
JGSLI was founded in 1985 to encourage and assist the pursuit of Jewish family history. Our goal is to bring together people interested in tracing their Jewish family roots.
We are a non-profit organization, operating through member efforts. We work to educate members and the public regarding the "how to" of finding one's roots. Please see our full listing of September 2016 - June 2017 programs here.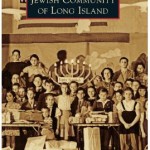 NEW BOOK - Jewish Community of Long Island, a publication in honor of the 30th anniversary of the Jewish Genealogy Society of Long Island, is available from major online booksellers and in many Long Island bookstores. For further information, click YouTube Overview to see how this book can help your genealogy research, a name-index supplement to the book, and a Press Release.