Welcome to the Jewish Genealogy Society
of Long Island (JGSLI)!
JGSLI was founded in 1985 to encourage and assist the pursuit of Jewish family history. Our goal is to bring together people interested in tracing their Jewish family roots.
We are a non-profit organization, operating through member efforts. We work to educate members and the public regarding the "how to" of finding one's roots. Please see our full listing of September 2016 - June 2017 programs here.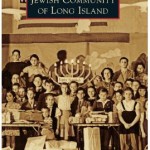 NEW BOOK - Jewish Community of Long Island, a publication in honor of the 30th anniversary of the Jewish Genealogy Society of Long Island, is available from major online booksellers and in many Long Island bookstores. For further information, click YouTube Overview to see how this book can help your genealogy research, a name-index supplement to the book, and a Press Release.
Sunday, June 25, 2:00 – 4:00 p.m. (Mavens 1:30 p.m.)
Mid-Island Y-JCC
45 Manetto Hill Road
Plainview, NY
www.miyjcc.org
The Rest of the Story: Finding Your Family in Online Newspapers
Speaker: Janeen Bjork
Janeen Bjork applies to genealogy the detective, analytic and presentation skills she garnered in a 30-year career as a television researcher. Her own family tree, and the trees she has done for friends and clients, are richly illustrated with newspaper stories that range from the mundane to the sensa- tional. She'll introduce us to some of the characters she has discovered and to the research methods that made it possible for her to find and preserve their legacies.
Please mark your calendars for our upcoming programming dates (all Sundays): 9/24/17, 10/22/17, 11/5/17, 11/19/17, 12/10/17, 1/28/18, 2/25/18, 3/25/18, 4/29/18, 5/27/18, 6/24/18
Please check our website later in the summer for updates on our 2017-2018 programming schedule to include the speakers' names, biographies and topics.
09/24/2017 Dr. Rhoda Miller: Did My Great Grandmother Have a Family? A Documents and DNA Case Study
10/22/2017 Emily Garber: Memory and Mystery: Breaking Down Family Lore
11/5/2017 Beginner's Workshop
11/19/2017 Susan Rubenstein DeMasi: Henry Alsberg: Unsung Jewish Hero
12/10/2017 Nina Talbot: Faces of Dynow: Portraits, Stories of Family, Friends and Rabbis from An Ancestral Town in Galicia
Sunday, November 5, 2017
Jewish Genealogy 101: Four Hours+ to Your Family Roots
JGSLI's Annual Family History Workshop
Mid-Island Y-JCC
45 Manetto Hill Road, Plainview
www.miyjcc.org
A review of the fundamentals of Jewish genealogy. Topics include interviewing relatives; identifying ancestral towns; Holocaust research; using censuses, city directories, ship's manifests, naturalizations, vital records, and other U.S. sources; European records; and internet resources. Early-bird rate (through Oct. 30): $45. After Oct. 30 and at the door: $55. Additional family member: $15. Fee includes a workbook (one per family, on a flash drive), a copy of Avotaynu's Getting Started in Jewish Genealogy, a light lunch, and 2017 membership dues.
Join the Jewish Genealogy Society of Long Island!
Membership Benefits Include:
Free Admission to monthly meetings
Receive periodic Lineage Newsletter
Receive JGSLI Online. A Monthly digital publication with tips and links to online resources
Opportunity to Network with other people and experts in Jewish Genealogy
Advanced notice of our Family Workshop and other special events.
Click here for more information!