Welcome to the Jewish Genealogy Society
of Long Island (JGSLI)!
JGSLI was founded in 1985 to encourage and assist the pursuit of Jewish family history. Our goal is to bring together people interested in tracing their Jewish family roots.
We are a non-profit organization, operating through member efforts. We work to educate members and the public regarding the "how to" of finding one's roots.Please see our full listing of programs here. JGSLI_Programs_Sept2015-June2016 (Updated June11)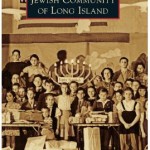 NEW BOOK - Jewish Community of Long Island by Rhoda Miller and the Jewish Genealogy Society of Long Island is available from major online booksellers and in many Long Island bookstores. For further information, click YouTube Overview to see how this book can help your genealogy research, a Name Index supplement to the book, and a Press Release.
Sunday, June 26, 2:00 – 4:00 p.m. (Mavens 1:30 p.m.)
Mid-Island Y-JCC
45 Manetto Hill Road
Plainview
www.miyjcc.org
Eastern European Travelogue - A Taste of the Old Countries
Speaker: Bill and Elaine Farran
After years of research, Bill and Elaine knew much about their family's history in Eastern Europe -- addresses, occupations, even burial places. But eventually they realized that to truly understand their ancestors' lives they'd have go to their towns -- to breathe the air and see the sites. The process went from an idea to a plan -- where to go, how to get there, and how to navigate three Eastern European countries (Poland, Lithuania, Belarus) without knowing their languages. In this informative and entertaining talk, the Farrans will describe their planning process and their trip to ancestral lands.
Sunday, Sept. 18, 2:00 – 4:00 p.m. (Mavens 1:30 p.m.)
Mid-Island Y-JCC
45 Manetto Hill Road
Plainview, NY
www.miyjcc.org
The Genealogy of Renee Kaufman: A Case Study
Speaker: Steve Morse
We look forward to welcoming back Stephen P. Morse -- computer guru and creator of the award-winning genealogy One-Step Webpages (http://www.stevemorse.org). Steve will present a case study showing how, starting with minimal information, he used his One-Step tools plus a few other websites to create an entire family history -- in about four hours! He will also demonstrate how to find records despite misspellings and how to avoid accepting incorrect information.
Jewish Genealogy 101: Four Hours+ to Your Family Roots
JGSLI's Annual Family History Workshop
Mid-Island Y-JCC
45 Manetto Hill Road, Plainview
www.miyjcc.org
Join the Jewish Genealogy Society of Long Island!
Membership Benefits Include:
Free Admission to monthly meetings
Receive periodic Lineage Newsletter
Receive JGSLI Online. A Monthly digital publication with tips and links to online resources
Opportunity to Network with other people and experts in Jewish Genealogy
Advanced notice of our Family Workshop and other special events.
Click here for more information!